The excavation campaign in Vignale is over, and a new season of study and research is just beginning for me. The next 12 months are the last year of my doctorate. To get a wider picture of ceramic studies beyond the traditional chronological limits of Late Antiquity (or, to put it more smartly, to follow Peter Brown's own definition of it), I'm heading to Amsterdam today for a 3-days conference on "Fact and fiction in medieval and post-medieval ceramics in the Eastern Mediterranean", organised at UvA by Dr. Joanita Vroom.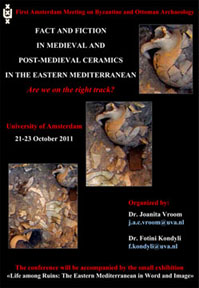 As usual, I will share my notes from the conference on a shared notepad (here).
By the way, this is the reason why I'm not going to Open Government Data Camp in Warsaw. Good luck to all the friends there!